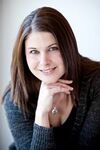 Jessica Shirvington is thirty-one years old and lives in Sydney, Australia, with her husband, Matt Shirvington, a FOXTEL presenter, and two daughers. She is currently a full-time mom and co-director in the company MPS Investments Pty Ltd. In addition to being an author, she is a shrewd businesswoman, and has previously founded and run a coffee distribution company in London.
Ad blocker interference detected!
Wikia is a free-to-use site that makes money from advertising. We have a modified experience for viewers using ad blockers

Wikia is not accessible if you've made further modifications. Remove the custom ad blocker rule(s) and the page will load as expected.